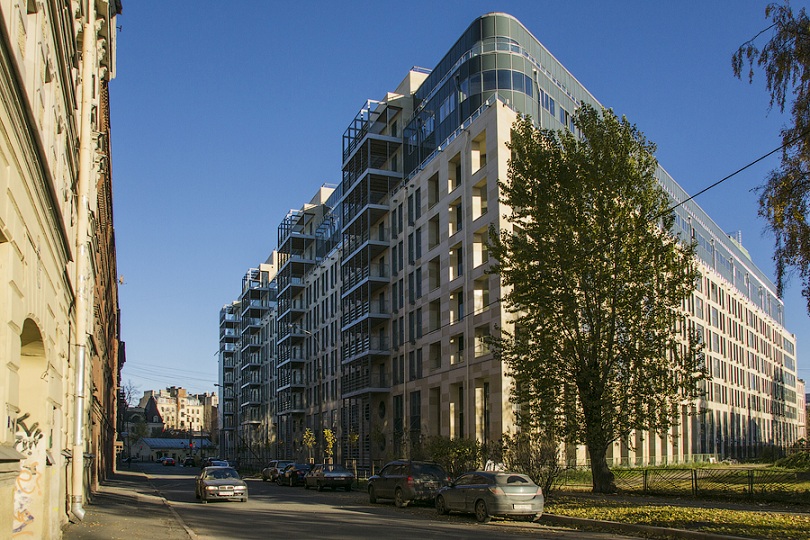 ◄
►
☐
"Lumier"
Residential complex at the address:
9 Korpusnaya ul., lit. A, St. Petersburg
Client: OOO "NevaStroiInvest"
Project team:
S.V. Padalko (head), A.A. Vinogradov (project architect),A.M. Berzing (architect), E.Yu. Nikitina (architect)
      The residential complex is a closed perimeter of 10-story buildings with an internal recreation courtyard area. This courtyard, situated on the platform of a closed car park for 295 cars, is separated from the surrounding city environment, and naturally protected from noise and pedestrian or car transit by linear street build-up. The greenery, the artificial relief using decorative ponds and small architectural forms creates the necessary environment for recreation.
The facades of the buildings facing the courtyard have colored decorative glass constructions that stress the contrast in perceiving the external and internal facades of the complex. The outer facades are designed in forms and divisions that are characteristic for buildings on the Petrograd side: with a strict network of windows and entrance lobbies of the first floor. The natural stone facing of the lower eight floors stresses the austerity and respectability of the facades. The upper three floors have a tiered structure that visually relieves the silhouette of the building. The apartments located on these floors have panoramic glass and open terraces with a view.
Offices are located on the first two floors, and also the entrance lobbies of the residential section of the complex, and the entrances to the residential and office sections are organized separately – from the inner and outer parts of the complex respectively.
Main technical-economic indicators:
| | |
| --- | --- |
| Area of site | 11,337 sq.m. |
| Area of structure | 9,555.8 sq.m |
| Floors | 10–12 floors |
| Area of residential building | 71 581,9 sq. m |
| Total area of apartments | 33 019,39 sq. m |
| Number of apartments | 308 |
| Number of places in underground car park | 295 |